GroundShare Arts Alliance, under the direction of Amanda Whiteman, is a collection of teaching artists, performers, and arts integration educators working to bring collaborative performing arts experiences to the community.  Through classes, workshops, performances and residencies, our professional artists work alongside students to create and explore the artistic process together.
If you are interested in joining, contact Amanda at amanda@groundsharearts.com.
Our Dance Theatre Company
GroundShare Dance Theatre is a performing company of students and professional teaching artists. This full-year commitment is designed to provide students with technical grounding while developing skills in theatrical storytelling and dance choreography.   Steeped in the tradition of American Modern Dance, we are an ensemble of all ages,  creating together and bringing an individual and unique expression of self to the group experience.  Our season ends with an original, evening-length, performance created by the ensemble.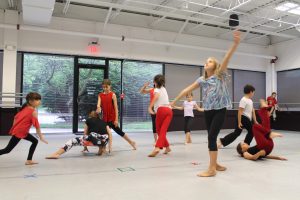 Rehearsal Location:
October 2021-June 2022
513 W Broad Street
Falls Church VA 22046
RECENT EVENTS
Together/Apart
June 10th 2022 at 7:30pm
June 11th 2022 at 2:00pm
Join us for a family-friendly evening of storytelling through dance and theatre.  Developed from the work of our students and professional teaching artists Together/Apart is a thoughtful reflection on how the pandemic has changed our lives.  
Center Stage
Reston Community Center
2310 Colts Neck Rd Reston VA 20190
Buy Tickets
or can be purchased at the door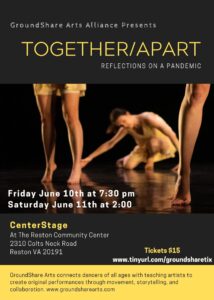 $15
eARTh camp
GroundShare Arts and Nature Club Kids Present eARTh camp.
STREAM Inspired Learning:
Science, Technology, Reciprocity, Engineering, Art, and Math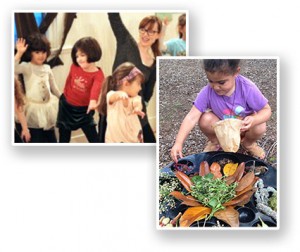 …all flow and flourish through interconnected, project-based, self-propelled learning. Rooted and inspired by Nature and expressed through various art mediums, your child will have ample opportunities to both learn from surrounding Nature and work with professional teaching artists who will come along side their expressive process.  The creek, streams, and woods of Glen Carlyn Park offer enriched outdoor classrooms to explore and drive inspiration. Throughout the week, we weave a sense of reciprocity and stewardship towards Earth with activities that express gratitude and respect for our shared planet.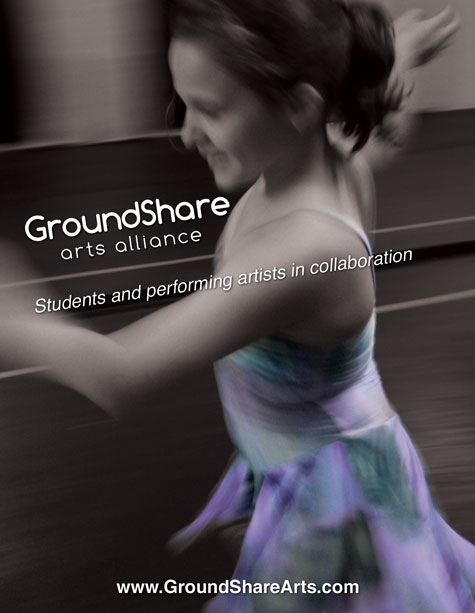 Watch GroundShare Arts in Action