Formerly GroundWorks Dance Ensemble of Northern Virginia.
GroundShare Arts Alliance, under the direction of Amanda Whiteman, is a collection of teaching artists, performers and arts integration educators working to bring collaborative performing arts experiences to the community.  Through classes, workshops, performances and residencies our professional artists work alongside students to create and explore the artistic process together.
Connected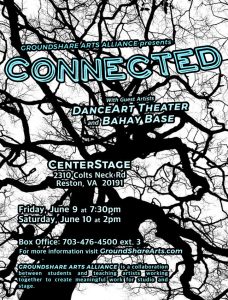 All life is connected. Millions of pieces interacting and reacting to form, even for the briefest of moments on time's landscape, shape, design, relationship, community.
GroundShare Arts, along with guest artists DanceArt Theater and Bahay Base, present a program of dance theatre created by artists of all ages. Together, we explore our interconnected relationships and the deeply integrated world around us.
Center Stage
Reston Community Center, 2310 Colts Neck Rd Reston VA 20190
Friday, June 9th 7:30
Saturday, June 10th 2:00
Tickets go on sale at the box office May 27th
703-476-4500 ext 3
$17 adults, $10 children
Meet our Artists:
DanceArt Theatre, under the direction of Meredith Barnes,
is a professional dance company whose mission is to inspire, encourage, and enlighten audiences through the art of dance. DanceArt Theater welcomes a diversity of people and wants to work with other artists in the community to enhance the joy that comes from training, performing and observing the art of dance. The company was established in April 2014 and since its beginning, has strived to contribute a unique voice to the dance community of Northern Virginia, and to foster deeper partnerships with companies and dance schools that also call Northern Virginia their home.
For more information visit: www.dancearttheater.com
Bahay Base, established in 2016 in Springfield VA, was conceived as a community for passionate, determined, and supportive dancers to call home. Under the direction of founding partner, Lauren DeVera, dancers explore all styles of street dance from krump to fusion.
For more information visit: Bahaybase.com
Dirt and Dance Camp
July 10 – July 14 , 2017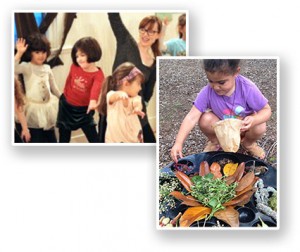 Nature has inspired dance in the earliest known cultures. Nature Club Kids and GroundShare Arts are collaborating this summer to bring your child this unique, integrated camp experience full of exploratory learning outdoors, animated into movement, drama and dance.
Invigorated and nourished by a morning spent in Nature, guided by Naturalist and Early Childhood Educator, Ann Marie Douglass; the children will exemplify their explorations and observations through drama and dance with GroundShare Arts director, and Wolf Trap Master Teaching Artist, Amanda Whiteman.
For more information on the Dirt and Dance Camp, click the button below:
GroundShare Arts Classes
If you would like to register for our classes, or if you would like to learn more about the classes offered, check out our 2017 Class Registration Page.